Set fire to two police cars and the police-station main entrance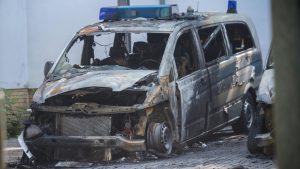 Bremen, 28th of july 2019
On Sunday night we attacked the pig station in Schwachhausen in the Bürgerpark to show solidarity with the comrades from Hamburg.
We destroyed two police cars and set fire to the main entrance with 10 liters of petrol.
Our thoughts and hearts are glowing for you. We send love and strength.
Fire and Flames Against Repression
(A)
quelle: anarchistsworldwide.noblogs.org