Two Telekom Vehicles Torched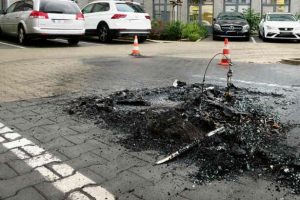 Leipzig, 31th of july 2019
The fire in our hearts continues to burn – and at Telekom too – solidarity with the Park Bench 3
Last night, we set two Telekom company cars on fire. Our motivation was the arrests of three of our comrades and the imprisonment of two of them. Once again, the State protectors have taken friends from our ranks and this angers us. But for the comrades and for us, the struggle continues. From moments of repression, we can also emerge stronger if we take the rights steps together. So we see our contribution as a step towards an offensive strategy against repression and we hope to strengthen our comrades inside and outside prison. But this message of burning solidarity is not only just for them. It is also for all prisoners of the social war. The counterinsurgency will not get us down!
Elsewhere, comrades already explained the machinations of Telekom against the oppressed, after sabotaging six Deutsche Telekom cars, a Deutsche Bahn fleet and a Vodafone radio antenna in June 2018 (https://lib.anarhija.net/library/die-netzbeschmutzer-innen-incendiary-actions-against-telekom-deutsche-bahn-and-vodafone):
"Telekom is the largest telecommunications company in Europe and operates technical networks for telephone, mobile, data transfer and online services. In addition to Germany, the company has subsidiaries in 14 other European countries where it is involved in mobile and fixed network providers. With its internationally operating subsidiary T-Systems, the group is one of the world's leading providers of information and communication technology, aimed at large-scale customers, the financial sector, the energy sector and public administration and security.
For police, military and other security authorities, T-Systems offers comprehensive solutions and information technology. Under the title 'PLX', Deutsche Telekom is developing, among other things, an information and search system for the police, in which all relevant reporting processes, such as facial recognition services, detention data, criminal record evidence etc are integrated. In this way, all processes in the handling of transactions, from initial registration to submission of the proceedings to the judiciary, are to be supported.
In addition, T-Systems offers technology for an 'Interactive Patrol Car Radio (IfuStw)'. A mobile police workplace with multifunction PCs in the vehicle, which enables full integration into the existing police infra and communication structure. These links are designed to reduce reaction and intervention times while facilitating evidence-securing documentation via video capture."
Fire to the prisons, their profiteers and the repressive authorities!
Freedom for all prisoners!
(((A)))
quelle: anarchistsworldwide.noblogs.org