Arson Attack Against a Bundeswehr (German Armed Forces) Coach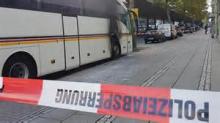 Bremen, 5th september 2019
Nocturnal disarmament in the centre of Bremen!
We know that the only thing stronger than the urge for freedom is hatred against those who take our comrades from us.
Bremen Central Station has been upgraded with 52 high quality surveillance cameras and a big new cop station. People who don't fit into the clean image of consumers and commuters are harassed, criminalized and repressed by the police. Also under red-green-red* the cop presence continues to increase.
This development is no coincidence. We are supposed to get used to the supposed strength of the state regulatory power and the sight of heavily armed and well-equipped cops. We are supposed to perceive the presence of uniforms, be they Public Order Office, Property Protection, cops or soldiers as something normal. As normal as the advertising for the murderers and fascists of the Bundeswehr (German Armed Forces) that surrounds us every day. We should give the cop a lot of space in our head for the greatest possible control and discipline of our lives.
Your normality kills!
It is important to combat this normality from authorities that causes guilt and fear, from uniforms that require anticipatory obedience, from monsters of technology that become independent and lead to permanent (self-)surveillance. This normality is opposed to a self-determined life, the construction of collective structures and non-commercial projects.
The Bundeswehr is part of this authoritarian, patriarchal, killing, bullshit normality. That's why we set fire to a Bundeswehr coach at the main railway station on the night of the 4th-5th of September, 2019.
This smoke signal is for those who are imprisoned. Solidarity greetings to:
The Park Bench 3, the Autobahn 3, the comrade Loic, the Basel 18, the comrades in Zurich, Andreas Krebs, Lisa…
We think of you and continue our common struggles.
Translation Note:
*Refers to German State political coalitions of Social Democratic and Green parties.
quelle: anarchistsworldwide.noblogs.org